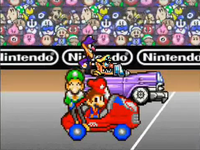 The Red Fire is a vehicle that belongs to Mario and Luigi. It was seen in the first episode racing against Wario and Waluigi's vehicle, Brute. It suffered from an engine blow-out at the start of the race, thanks to Wario and Waluigi's cheap trickery, but quickly shot into the lead thanks to a Golden Mushroom. Towards the end of the race, it was blasted from the racetrack along with the Wario Bros. and their vehicle. It has not been seen since.
The kart appears with red and blue paint job, having Mario's trademark letter M on the top of the kart and wheels.
The Red Fire is the Mario Bros. vehicle of choicein Mario Kart: Double Dash!!. It is a default middleweight kart when the game is started, usable by all light- and middle-weight class characters. Like Mario, this kart shows all average stats and is generally considered a well-balanced kart. 
Ad blocker interference detected!
Wikia is a free-to-use site that makes money from advertising. We have a modified experience for viewers using ad blockers

Wikia is not accessible if you've made further modifications. Remove the custom ad blocker rule(s) and the page will load as expected.