This article is from the 2006 series of SMBZ and is no longer canon.
Petey Piranha
is an abnormally large
Piranha Plant
. His first appearance was in
Super Mario Sunshine
, and since then he has gained much popularity and has since become a regular boss in Mario games. He also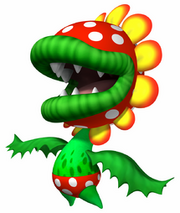 consistently appears in sports games and spin-offs.
Super Mario Bros. Z
Edit
Petey Piranha made cameo appearance in
Super Mario Bros. Z
Episode 7
, when Luigi imagined that his older self got lost in the Pipe Maze and encountered Petey Piranha. Even the costume of his is in Super Mario Bros. Z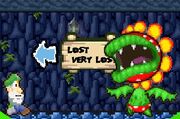 when Wario was disguised as him and frighten Luigi. But then frighten by Yoshi, who also was disguised as Petey Piranha.